Some people you might be interested
to meet!

Captain Ante-Toni Mirkovic
Born in Split, Croatia, Captain Ante-Toni Mirkovic has been living in the Croatian city of Dubrovnik since the age of eight and is a graduate of the Nautical School and Maritime University there. In 1980, he joined his first cruise vessel, Dalmacija. Aboard this ship, he sailed the Mediterranean, North, and Baltic Seas, the entire Norwegian Coast, Island and Svalbard Archipelago in the Arctic Ocean, north of mainland Europe.
In 1986, Toni sailed on the cruise ship Ambasador as a Chief Officer and Staff Captain. This gave him the opportunity to visit the West and East coast of Africa on expeditions that included the Seychelles and Madagascar.
Toni became a Captain for the first time in 1995, on passenger-cargo ships cruising from Northern Europe to the United States. He also sailed on the famous sailing ship Sea Cloud on her Mediterranean and Black Sea voyages.
From 1998 to 2005, he served as Master of Cruise/Casino on NCCL vessels in Southeast Asia and Australia.
He joined Paul Gauguin Cruises in 2006 and is very proud to be in command of the m/s Paul Gauguin. The beautiful waters of French Polynesia never cease to amaze him and naturally the beauty of the Islands and the Polynesian Culture has made The Gauguin his home away from home.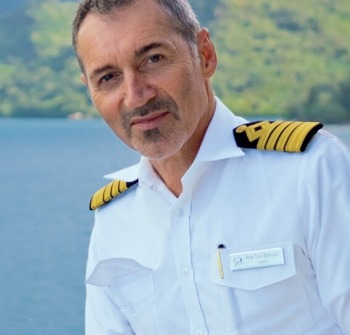 Captain Davor Ljutic
Captain Davor Ljutic was born in Dubrovnik, Croatia. With Dubrovnik having one of the oldest Nautical Schools and a deep maritime history in the Mediterranean, Ljutic selected a career at sea. After finishing his secondary education, Ljutic started as a Cadet on ships. In 1984, he graduated from the Faculty of Maritime Studies at the University of Dubrovnik. Ljutic worked for Atlant Line, a local cargo company, until 1987 when he was promoted to Chief Officer. In 2003, he joined his first cruise vessel – the Walrus/Neptune-Asia Wide Company. From 2004 to 2007 he worked for the Iberocruseros Company on the ships Grand Latino, Grand Mistral, Grand Voyager, and Grand Celebration as well as the Seabourn Pride, Silver Whisper, and Amadea. He joined Paul Gauguin Cruises in June 2008 as Safety Officer and was promoted to Staff Captain, second in command to the Captain, and in charge of safety, navigation, maintenance of the ship, discipline of the crew, and security of the vessel. In 2014, he was promoted to Captain.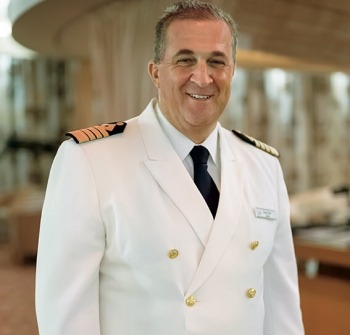 Travel Concierge Manager Sorin Crihalmeanu
Sorin Crihalmeanu brings more than ten years of experience in the travel industry to his role as Travel Concierge Manager aboard the m/s Paul Gauguin. After studying economics and engineering in his homeland of Romania, he began his career with Celebrity Cruises in 2003 as a Shore Excursions Assistant Manager. He was quickly promoted to Shore Excursions Manager. A few years later, he was promoted again, this time to the position of Onboard Marketing Manager.
After a wonderful time working for Celebrity Cruises, Sorin decided to take a break from the sea in order to launch his own business back home in Romania. A year later, he agreed to join Paul Gauguin Cruises while still developing his own tourism business at home.
In all, Sorin has visited more than 100 ports worldwide, including ports in Europe, Asia, Australia, and the Americas, and he imbues his work with his enthusiasm for traveling and discovering new cultures and places. He looks forward to sharing his expertise with you.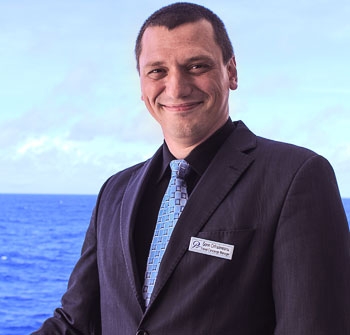 Hotel Director Carlos Acevedo
The Gauguin Hotel Director Carlos Acevedo has worked in the cruise industry for the past 25 years—many of them spent as Hotel Director for cruise lines specializing in intimate, luxury ships, including Silversea, Radisson Seven Seas' Song of Flower, the all-suite former Renaissance Cruises, Celebrity Cruises, and the Yachts of Seabourn.
Born in South America, Carlos studied engineering at the University Ricado Palma in Lima, Peru, before attending Nova University, where he received his degree in Hospitality & Tourism Management. Carlos is fluent in English and Spanish, and, to refine his linguistic skills, he also attended several courses at Washington State University.
Carlos joined the Paul Gauguin Cruises team in 2014. What he likes best about the cruise line is, in his words, "the loyalty of the guests in returning to The Gauguin. To me, it has become like a family and provides for an unparalleled atmosphere at sea. It is indeed a sincere pleasure that I take pride in offering you the utmost in service and wonderful cuisine."
Carlos makes his home in Boca Raton Florida. In his time off, he enjoys cycling, swimming, cooking, shopping—and, of course, traveling.